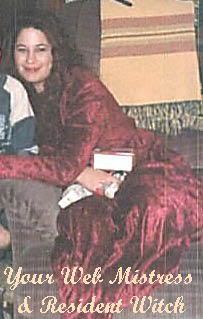 BEHIND THE STORE
Strega's Lair is owned & operated by me, Brenda, one lone Witch, Wiccan and Pagan-take your pick. I also get a lot of help & support from my husband, sons, various friends and family members. While the store is almost an entirely Pagan/Wiccan supply store, you will find various other treasures here, too, for other religious paths (Christianity being the exception). I am an extremely eclectic, solitaire wiccan and I want every customer who visits the Lair to feel comfortable here. .
This store is my dream and following are the reasons behind the conception of Strega's Lair.
I've been running auctions for quite some time now & I love it. But there are certain things that bother me about the selling of Pagan/Wiccan supplies at the auction houses and at other on-line stores I've seen.
I'm not slamming anyone ~ I truly believe that everyone must walk their own path and do things their own way. From the very beginning of my life, my way was not like most "normal" people's way & my path was not like their path.
I live in the middle of the bible-belt~it is extremely hard to find some of the supplies that I need here. So, like a lot of us, I turned to the net. It's a wonderful way to get what you need and to find a variety of supplies and non-essentials but things you just have to have *grin*, alike.
After I'd done the auctions for awhile (both buying & selling) it seemed to me that some Pagan/Wiccan items were pretty expensive and maybe more expensive than they needed to be.
So, I started researching and found out that quite a few sellers were making huge profits. This is wonderful if you're the seller but what about all the people who really didn't have the resources to pay that much for supplies?
And so, after much discussion with my husband, and wading through the states paperwork, Strega's Lair was conceived.
Now that you know why Strega's was conceived, you need to know what the philosophy is behind my selling practices.
It is really very simple~I don't want to be rich, what I do want is for Witches that don't have a lot of money to be able to buy what they need at a reasonable price. I want to be able to keep the store running, have a fairly good selection of items for my customers & to be able to pay some of our bills~that's it.
Will I have to mark-up from wholesale? Yes. Will you pay $12.00 for a $2.00 candle? No. Speaking for myself, selling practices like that are not very ethical, I don't feel comfortable doing that and it isn't what I want to do. So, I'm not going to. At this moment, every item in the store is priced below its retail price. As the store grows & I have more money to buy inventory in larger quantities, I will drop the prices even more. That is my promise to all of you.